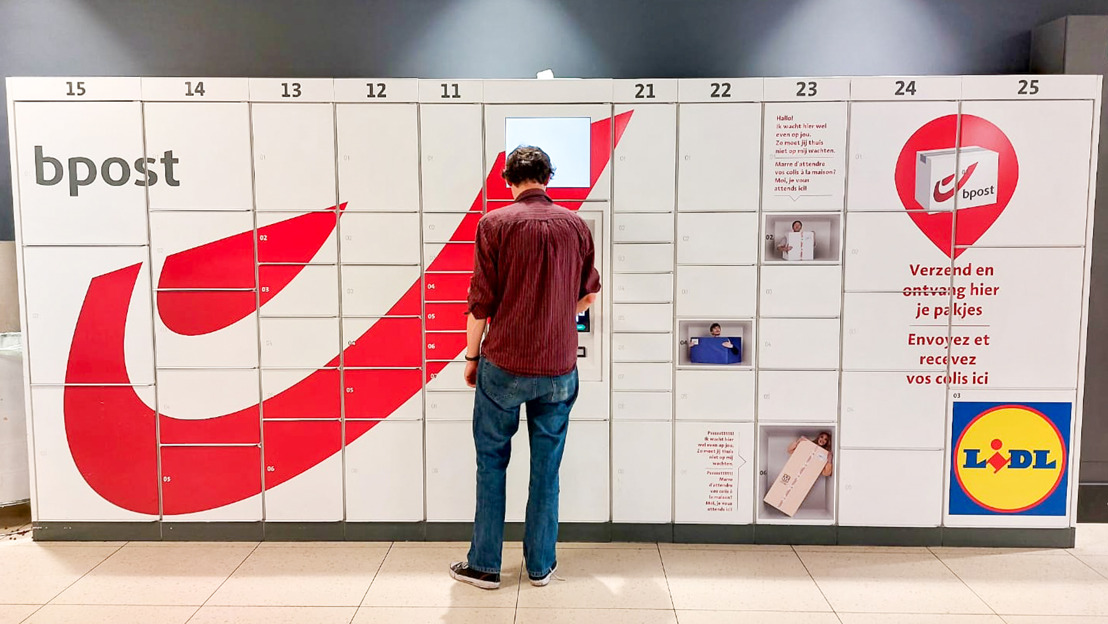 120 new bpost parcel lockers at Lidl
bpost and Lidl are accelerating their partnership. The retailer will add parcels lockers at 120 easy-to-access locations across Belgium over the next few years. More and more customers have their parcels delivered to parcel lockers, as they are accessible 24/7. Delivering a parcel in a parcel locker is the convenient and sustainable option, especially when pick-up is combined with a shopping trip to the supermarket.
Wednesday 20 September 2023
Systematic rollout
Picking up and dropping off parcels at bpost parcel lockers is a convenient, efficient and sustainable solution. That's why bpost and Lidl are strengthening their partnership by adding new parcel lockers at 120 Lidl car parks over the years to come. That gives customers the option of dropping off and picking up their parcels while shopping.
The first parcel lockers at Lidl were put int use in 2015. The branches for this new wave will be selected on the basis of population density, available space at car parks and the existing network of parcel lockers in the vicinity. Furthermore, the most frequently used parcel lockers without display will be replaced by a larger model with display.
"We began with parcel lockers at three Lidl locations in 2015. The current acceleration will bring that up to 126 locations. As well as the quantity, there is also a positive trend in terms of geographical spread. We will install parcel lockers at branches all across Belgium. That will give every customer an additional sustainable parcel pick-up option at a Lidl supermarket close by. Parcel lockers at Lidl locations have been a big success since day one. So strengthening this partnership was a logical step for us," says Nick Bond, Head of Partner Network at bpost.
The first new branches to get their own parcel lockers are Marche-en-Famenne, Genk and Putte.
Shopping responsibly
Sustainability matters greatly for both partners. Deliveries are grouped for pick-up points like parcel lockers (as well as post offices, post points, and parcel points). That means the carbon emissions are lower than for home delivery. Lidl customers benefit from an alternative delivery option, which is convenient, practical and sustainable.
Julien Wathieu (Lidl Belgium): "Internal research shows that one in three customers shop at the Lidl supermarket after picking up their parcel and 85% of users will recommend the service to family and friends." By developing this project, first and foremost Lidl continues to strengthen its supermarket network. The online shop, the pick-up points and the Lidl supermarkets complement each other.We also see a significant rise in the number of Lidl online shop parcels in the parcel lockers at the Lidl supermarkets.
Lidl and bpost avail themselves of an optimal network of pick-up points for their customers, centred on proximity, sustainability and convenience. The Lidl locations with parcel lockers will increase going forward to cater to the developments on the parcel market.
Selected figures for parcel lockers at Lidl
From the present 6 large parcel locker to 126 parcel locations (larger models).

From 1000 to 10,000 locker doors

66,802 parcels in parcel lockers at Lidl locations (January 2023 up to and including July 2023), including 9,609 Lidl online shop parcels

Press Relations MULTI - Boulevard Anspachlaan 1 bus 1, 1000 Brussels