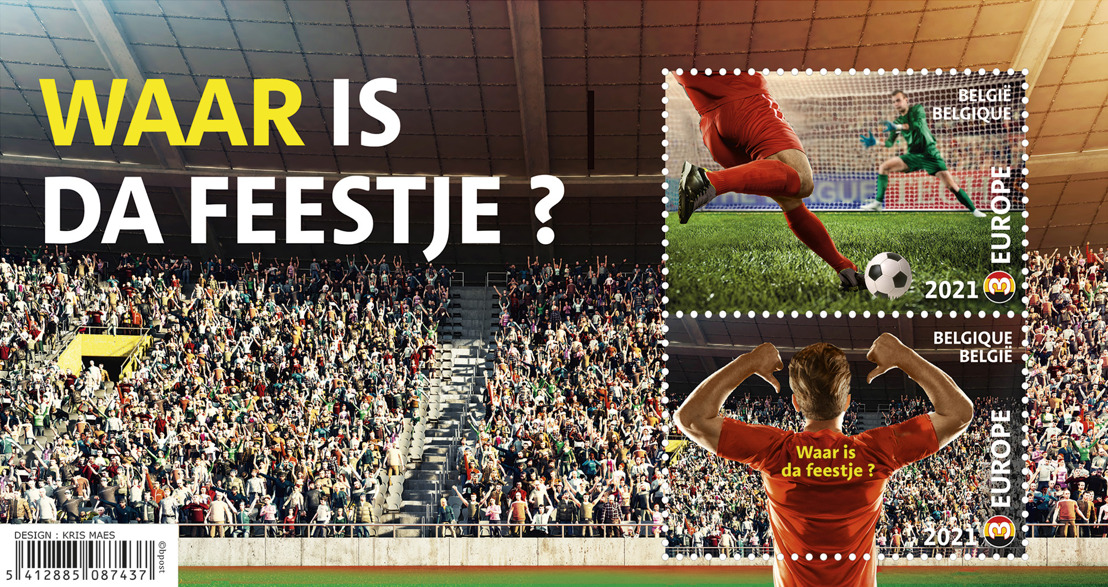 Animated stamps to support the Red Devils
On 14 June bpost issues a special stamp sheetlet that comes to life when tilted.
Monday 14 June 2021
"Waar is da feestje? Hier is da feestje!", the song that spreads through football stadiums when the Red Devils are playing, is now coming to letterboxes. As Euro 2020 kicks off, bpost issues special stamps to show its support for the Red Devils.
The sheetlet with lenticular effect includes two different stamps. Tilt it to create a sense of movement. On the sheetlet the stadium erupts in Belgian colours. On the first stamp, a player scores a goal. On the second, a fan wears a shirt printed with the words: "Waar is da feestje? Hier is da feestje!".This is the first time this technique has been used on Belgian stamps.
So: everyone cheering for the Red Devils? At bpost we're all set!
The two-stamp sheetlet for international mail is available at bpost's eShop and in main post offices and post points on 14 June 2021. It costs €11.10.
This sheetlet was created with the support of bephila as part of the Promotion of Stamps and Philately.
Click here for a glimpse of the new bpost stamps for 2021.
Veerle Van Mierlo Woordvoerster (voor journalisten - geen info over pakjes), bpostgroup
Laura Cerrada Crespo Porte-parole, bpostgroup