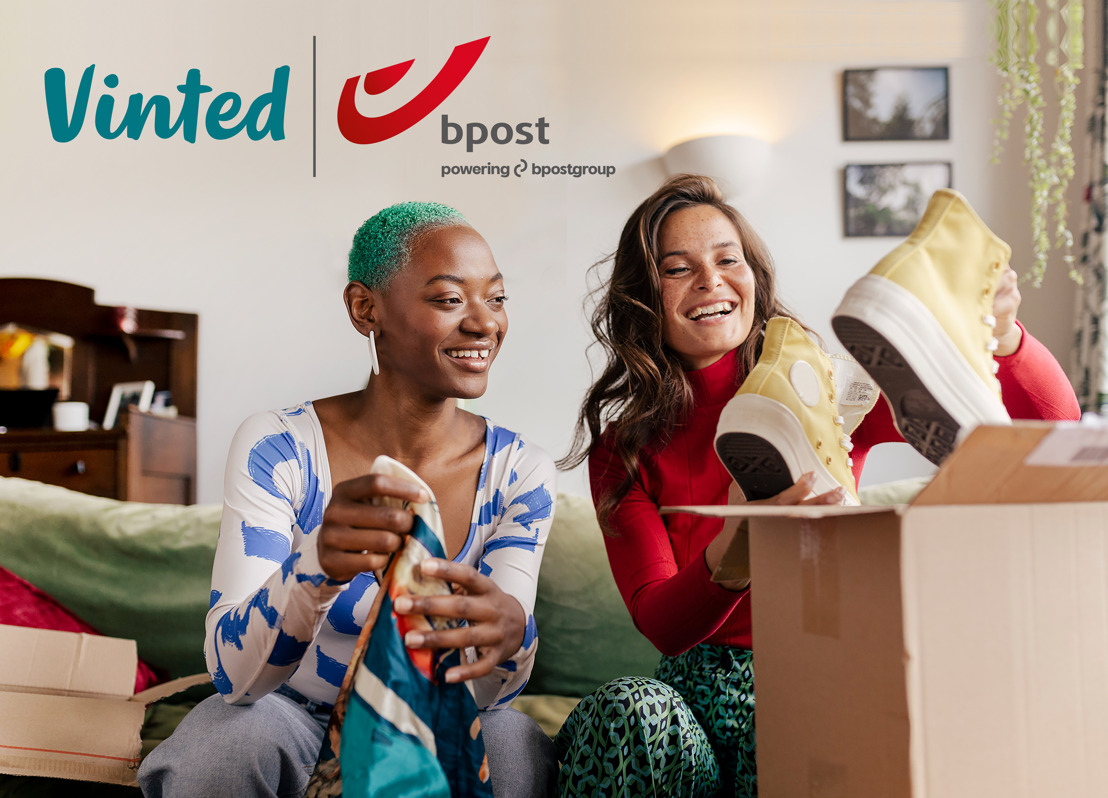 bpost makes further sustainability advances hand in hand with Vinted
bpost and Vinted strengthen their partnership. Now Belgian users on Europe's largest online platform for consumers who love second-hand clothes are able to send and receive their garments and accessories easy… and in a more sustainable way. Parcels delivered by bpost arrive within one or two days depending on what time of day the sender drops them off. They can be dropped off and picked up at one of the 2600-plus bpost Pick-up Points. The nearest is never more than 5km away.
Wednesday 19 October 2022
Sustainability
Sustainability and circular economy are key non-negotiables for bpost, which is dedicated to developing more ecologically sound planet-friendly delivery solutions: Pick-up Points and Parcel Lockers that cut carbon emissions by 30% on average compared with home delivery.
Vinted supports a circular economy by offering an online platform for users to give clothes a new life by selling them, as well as to buy second-hand clothes. Vinted and bpost have united behind these shared goals. The e-commerce logistics company has now been confirmed as a preferred delivery partner of the platform, which aims to give preloved items ​ a new lease of life.
How it works is easy. Once the sales transaction via Vinted has gone through and the buyer has chosen bpost for delivery, the seller simply creates and prints a bpost shipping label on the Vinted platform at a very advantageous price. That's because Vinted users benefit from competitive bpost postage tariffs. And as more sustainable shipping options ​ is a value shared by Vinted and bpost, buyers can choose their preferred delivery location and the seller never has to go far to drop off the parcel at one of the 2000-plus bpost Drop-off Points or one of the 600-plus Parcel Locker locations in Belgium.
Reliable, also abroad
The parcels are delivered within one to two days in Belgium (depending on what time of day the sender drops them off) and can be tracked by both seller and buyer in the My bpost app or on the Track&Trace webpage.
As well as taking care of shipments between second-hand hunters in Belgium, bpost also ensures the delivery of parcels in Luxembourg, the Netherlands and France.
About bpostgroup
bpost, the leading Belgian postal operator, is a fast-growing logistics partner for parcel handling and omnicommerce in Europe, North America and Asia. Our 36,000 employees in Belgium and around the world bring consumers, businesses and governments together by delivering parcels and letters to the front door and marketing e-commerce logistics services. As a people- and planet-friendly company, we create long-term added value in sustainability for our customers and our shareholders. In 2021 we generated turnover of 4,333.7 million euros.
About Vinted
Vinted Marketplace is the largest online international C2C marketplace in Europe dedicated to second-hand fashion, with a growing member base of over 75 million registered members spanning 18 markets in Europe and North America. With a mission to make second-hand the first choice worldwide, Vinted enables people to sell and buy second-hand clothes and lifestyle items from each other, helping give those items a second or even third life.
Vinted was founded in 2008 in Lithuania and in 2019 became the country's first Unicorn. Today Vinted is still headquartered in Vilnius, with offices in Amsterdam, Berlin, Hamburg, Utrecht and Prague and over 1,200 employees. It is backed by six leading venture capital firms: Accel, Burda Principal Investments, EQT Growth, Insight Venture Partners, Lightspeed Venture Partners, and Sprints Capital.
Press contact
For more information about Vinted, contact [email protected]

Press Relations MULTI - Boulevard Anspachlaan 1 bus 1, 1000 Brussels