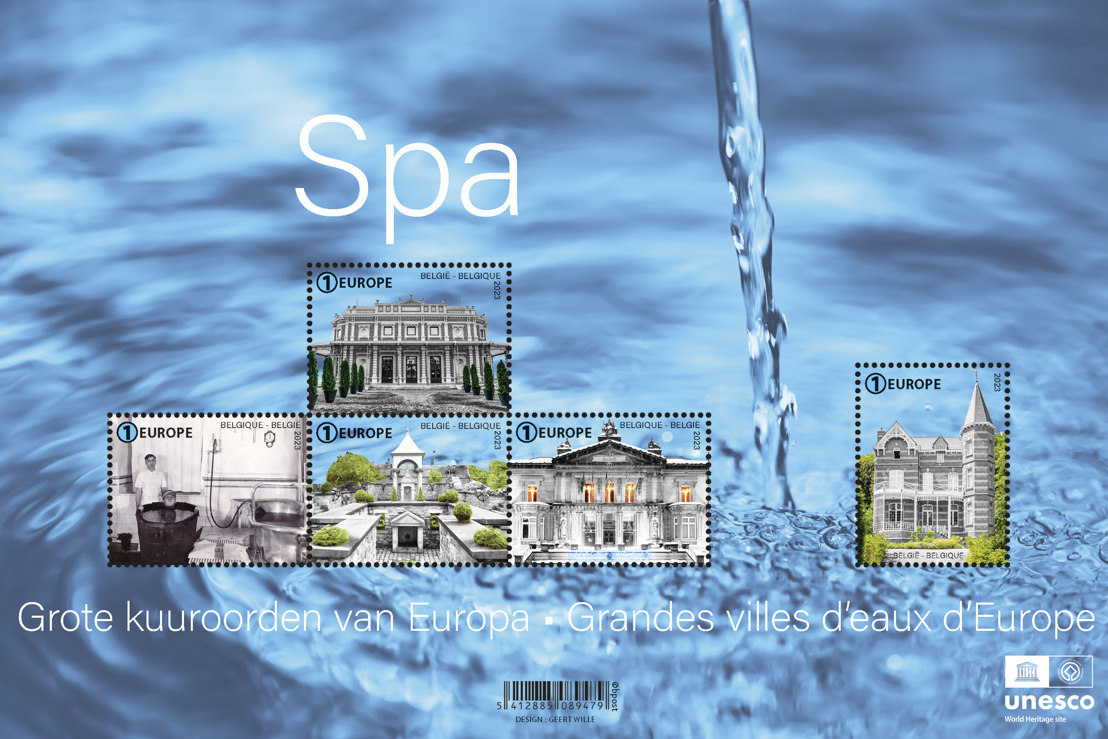 Health resort Spa celebrated with special stamp issue
Back in 2021 Spa, a small town in the Ardennes with its famous name that it has given to all other towns with thermal baths, was officially recognised as a UNESCO World Heritage site. bpost is proud to celebrate this historic place with a special stamp sheetlet.
Wednesday 25 January 2023
Spa's fascinating history highlighted in five postage stamps. The Pavillon des Petits Jeux, balneotherapy, the Géronstère spring, the Old Thermal Baths and the Villa San Antonio are depicted on the stamp sheetlet illustrating the halcyon days of the spa in the 18 century. They are in black and white to emphasise the historical aspect, while the limited use of colour connects past with present.
In the 16th century the town claimed a place in history by being the first to bottle and export spring water. Spa became so famous that, in English, it gave its name to all resorts with a mineral spring. Czar Peter the Great's miraculous recovery from liver problems after a visit to the thermal baths also played a hand in making Spa's name among 18th century nobility. At the time, Spa was the place to be for the wealthy bourgeoisie. Leopold II's spouse Queen Marie-Henriette stayed several years in the town.
The limited edition Spa stamp sheetlets with five stamps go on sale at post offices in and around Spa, in eShop and at the Brussels and Mechelen Philaboutiques on 23 January, priced at €12.65.

Press Relations MULTI - Boulevard Anspachlaan 1 bus 1, 1000 Brussels