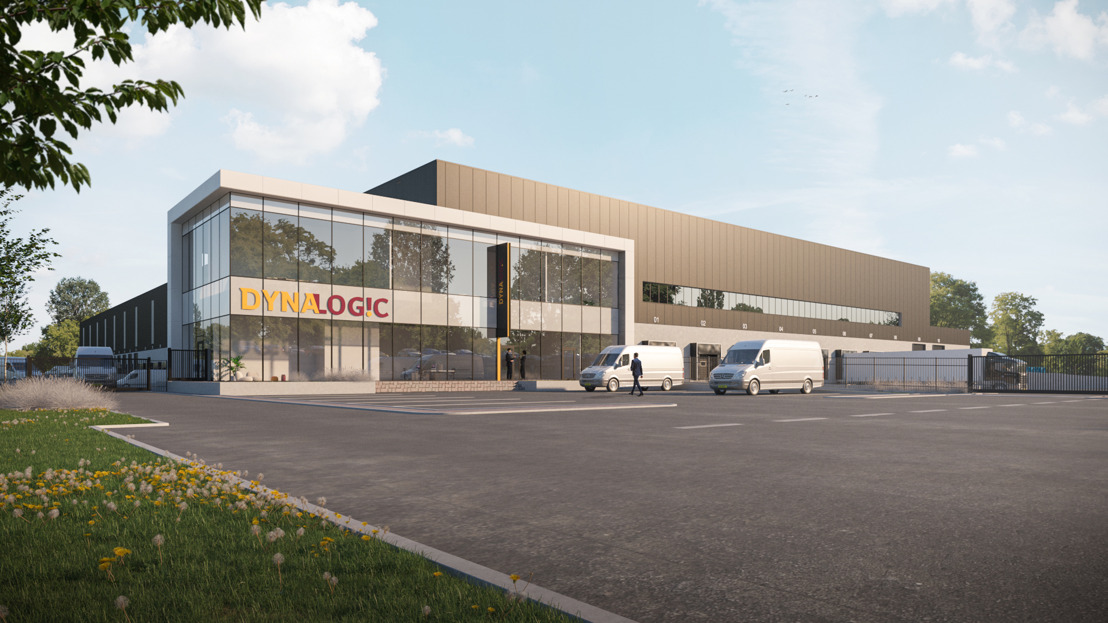 New distribution centre for Dynalogic in Amsterdam
Dynalogic takes the next step in sustainability and gets ready for future growth with newbuild project in Amsterdam
Thursday 10 February 2022
Dynalogic, specialist in more than delivery, is building a completely new built-to-suit distribution centre in Amsterdam in association with WDP, partner in logistics real estate. The strategic location of the exceptionally sustainable gasless building makes it the perfect base for optimal urban distribution in Amsterdam and supplying customers in the province of North Holland. The construction phase got underway this morning with the official groundbreaking ceremony at the Amsterdam location.
WDP is building a new distribution centre for Dynalogic near the junction between the A5 and the A10 motorways. The brownfield location on Hornweg will be developed into a built-to-suit distribution centre covering around 14,000m². It will be a multi-network Dynalogic depot that is able to serve both one- and two-person networks. Stephan van Mulken, CEO DynaGroup says: "The central location and the possibilities this site offers were decisive in choosing this location. It fits in perfectly with our vision for the future and will enable us to achieve further sustainable growth and continue to innovate in the years to come."
For Dynalogic this constitutes another major milestone in the realisation of its sustainability ambitions. The building will be completely gasless upon completion, as well as fulfilling all necessary TAPA requirements. The roof will also be equipped with solar panels. DENC's design factors in the needs for flexibility and future growth. The new distribution centre will be taken into service in late Q4 2022 and will replace the existing site in Woerden in due course.
Philip Bleijlevens, Director Strategy, Innovation & Center of Excellence says: "This newbuild project makes us truly ready to launch new innovative concepts to make our customers' lives easier and fulfil our sustainability ambitions for 2025 and beyond. It also offers us an ideal opportunity to raise the efficiency of our processes so we can double down on our focus on turning customers into fans."
About Dynalogic
Dynalogic is a full-service Benelux-wide delivery specialist for fragile, delicate and valuable products of any size. Dynalogic provides peace of mind to customers by delivering and installing products at the time and place that suits them. Dynalogic is part of the innovative supply chain specialist DynaGroup, where more than 2,000 people work hard every day to turn every customer into a fan. DynaGroup has been part of bpost group since 2017. bpost is Belgium's biggest postal operator and a strong ecommerce logistics partner in Europe, North America and Asia.
About WDP – Warehouses with Brains
WDP is market leader in logistics real estate for the Benelux, with activities in France and Romania. This family business has grown into a trusted name on Euronext Brussels and Amsterdam and is listed on the Bel20. Its market cap of 5.5 billion euros makes WDP the solid partner of choice for ambitious, future-proof logistics real estate projects.
For all complementary information:
Loekie Vandenbergh, Marketing & Communicatie DynaGroup, T. +31 (0)6 21 39 78 66, [email protected]