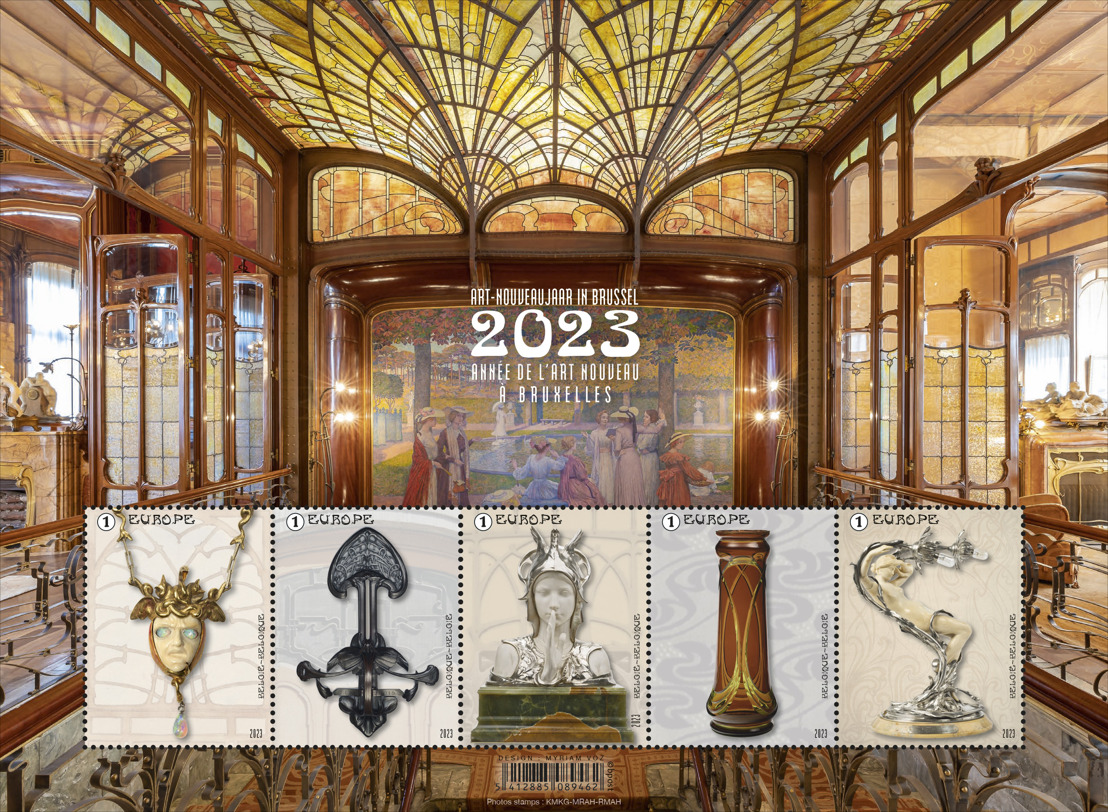 Stamp issue honours unique art-nouveau
One of history's first important art nouveau buildings, Hôtel Tassel, was inaugurated 130 years ago. To celebrate, 2023 has been named the first ever year of art nouveau in Brussels. Not wanting to let this pass by unnoticed, bpost is issuing a stamp sheetlet with five stamps dedicated to this artistic movement.
Tuesday 24 January 2023
The government in Brussels decided to celebrate 2023 as the year of art nouveau two years ago. Our capital is home to almost a thousand art nouveau buildings. 250 of them are protected built heritage. This art nouveau issue turns the spotlight on less well-known decorative and jewellery art. bpost worked closely with art nouveau expert professor Werner Adriaenssens of the Royal Museums for Art and History in Brussels to select the objects.
The result is a gorgeous stamp sheetlet with five unique stamps, featuring the 'Medusa' Hanger, Door Fitting from a studio, Mysterious Sphinx, Vase by Léon Ledru and Lamp with a Nymph. ​ The sheetlet background depicts the impressive central hall of Hôtel Solvay, a showpiece of the art-nouveau buildings in Brussels, created by Victor Horta.
News for all stamp and art collectors: the five art nouveau objects in this issue can all be viewed at the Royal Museums for Art and History. You can buy your own copy of this limited edition stamp sheetlet for €12.65 from 23 January. Visit eShop or drop by the Brussels or Mechelen Philaboutique.

Press Relations MULTI - Boulevard Anspachlaan 1 bus 1, 1000 Brussels