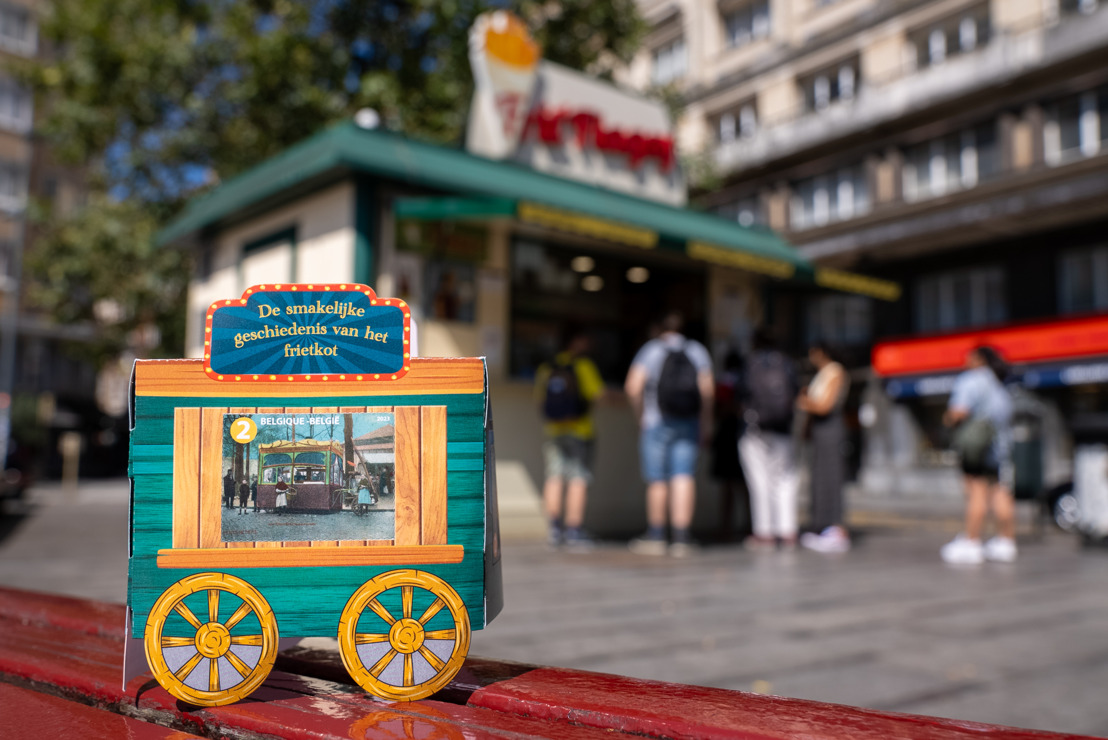 Stamp sheetlet pays homage to Belgium's fries stands
bpost today launches a unique stamp sheetlet with a special folding pattern devoted to Belgium's frites shacks. The issue is a celebration of Belgian chips – and specifically the special places where they are prepared and sold.
Monday 28 August 2023
Iconic Belgian shacks and stands
Belgium has a rich gastronomic tradition and Belgian pommes frites are one of the world's most famous food icons. This stamp sheetlet salutes Belgium's archetypal shacks, stands and trucks that sell them. Designer Geert Willie hit on a special cutting form for the occasion. The sheetlet can be folded to create a miniature food truck containing five stands. ​
Five glorious shacks
The five stamps on 'The Delicious History of the Fri(e)tkot' sheetlet feature both traditional and modern stands, each one a source of Belgian pride.
'Frietkot', 1950s-60s: 'original' red shack on Grote Markt in Bruges

'Friture Moderne', 1940s and 50s: stylish chippy/restaurant for the upper classes in Liege

Old frites stand, 1920: a black-and-white photo depicting post-WWI servicemen posing in front of a stand in Middelkerke.

Frites in the rain: stall in a forest 1980s or 90s

'Friture esthétique ambulante', 1913: coal-powered trailer in Brussels that was moved by horse in the evening
The first mobile stalls began popping up at fairs, including the one in Liege, from 1838. The potatoes were peeled, cut and fried order by order. More and more permanent shacks started to appear after the Second World War. In recognition of its iconic status in Belgium, the institution was recognised as Belgian cultural heritage in 2017.
Sale and unique cancellation ​
A limited edition stamp sheetlet with five stamps retailing for 13.60 euro goes on sale at the Philaboutiques in Brussels and Mechelen as well as the eShop on 28 August.
Stamp collectors can secure a unique cancellation and a MyStamp for this special issue at Frietmuseum in Bruges on 2 September.

Press Relations MULTI - Boulevard Anspachlaan 1 bus 1, 1000 Brussels