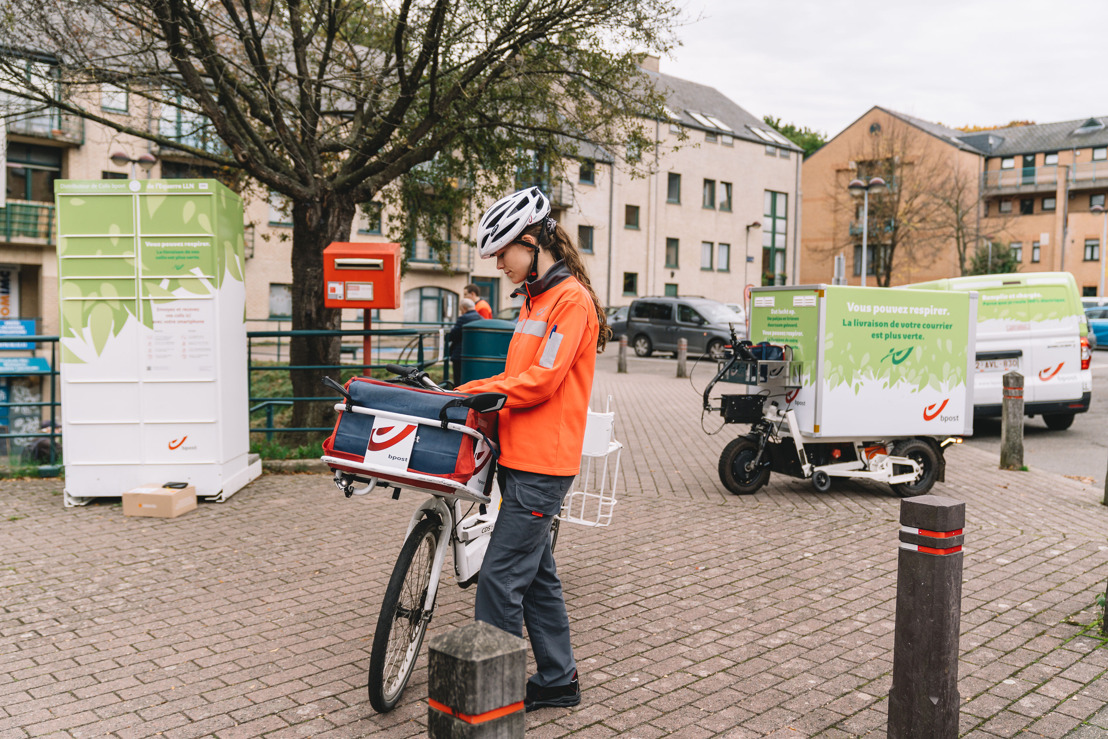 Zero-emission bpost rounds in Louvain-la-Neuve
Parcels and letters are now delivered emission-free in the university town. New parcel lockers have been installed at eight locations. The lockers have transformed Ottignies-Louvain-la-Neuve into a full-fledged Ecozone.
Tuesday 29 November 2022
After Mechelen, Leuven, Namur and Mons, Ottignies-Louvain-la-Neuve is the latest addition to the list of cities in which bpost postwomen and men provide zero-emission letter and parcel deliveries on their regular rounds, on foot, by electric vehicle or by electric bike trailer. But that's not all. Louvain-la-Neuve has been transformed into an Ecozone, thanks to its new dense network of pick-up points (post points, parcel points and parcel lockers) on top of its sustainable delivery options.
The City of Ottignies-Louvain-la-Neuve and bpost are also counting on the cooperation of inhabitants and local businesses. By opting for delivery at a pick-up point, citizens also help protect the planet, of course. By making deliveries for many customers at the same location, bpost makes fewer journeys, which also reduces congestion on the roads. This also ensures that parcels and letters are delivered first time and can be easily picked up on foot, by bike or as part of a journey that would have been made anyway, such as a commute. Cutting carbon emissions creates a healthy environment for everyone!
"The City of Ottignies-Louvain-La-Neuve is an important zone for us. It is ideally laid out for the use of cargo bikes," explains Claudia Mastini, who heads the Urban Logistics project at bpost. "We felt it was important to set up a dense network of pick-up points to offer inhabitants and students a simple and sustainable parcel delivery solution. We also want to set the right example in order to inspire the next generation who are currently studying."
Hadelin de Beer de Laer, Ottignies-Louvain-la-Neuve's portfolio holder for transport and roads says: ​ "The City of OLLN supports bpost and all businesses that want to trial services that generate lower carbon emissions and less pollution in general. The new bpost service fits in with the City's policy – the development of "mobi-points", where users can access shared cars and bicycles, parcel stations and so on. The City will continue to listen to what users have to say about these new services. They should not hesitate to let us know what they like and what they want to see improved."
"To me, the cargo bike has many assets", says Jean, a postman in Ottignies-Louvain-la-Neuve. "The first advantage is its ease of use: it doesn't take long to understand how it works and how to plug it in. It is also very pleasant to drive. The electric motor of the trailer almost makes you forget that you are towing it. Although the cargo bike is less easy to handle in tight places, the fact that the trailer is removable is also a good point: you can park it and then deliver your mail items with your bike, or take the trailer with you on a walking tour, leaving the bike behind. Furthermore, the trailer that seemed small at first glance was actually much bigger: you can load up to 50 parcels and still have room for mail bags."
Louvain-la-Neuve – Key delivery figures
Number of electric vehicles: ​ ​ ​ ​ ​ ​ ​ ​ ​ ​ ​ ​ ​ ​ ​ ​ ​ ​ ​ ​ ​ 6
Number of electric bike trailers: ​ ​ ​ ​ ​ ​ ​ ​ ​ ​ ​ ​ ​ ​ ​ 4
Number of rounds: ​ ​ ​ ​ ​ ​ ​ ​ ​ ​ ​ ​ ​ ​ ​ ​ ​ ​ ​ ​ ​ ​ ​ ​ ​ ​ ​ ​ ​ ​ ​ ​ ​ ​ ​ ​ ​ ​ 10
A network of 12 pick-up points
8 parcel locker locations

4 post points and parcel points
All told, then, a pick-up point within 400 metres of every inhabitant.

Press Relations MULTI - Boulevard Anspachlaan 1 bus 1, 1000 Brussels