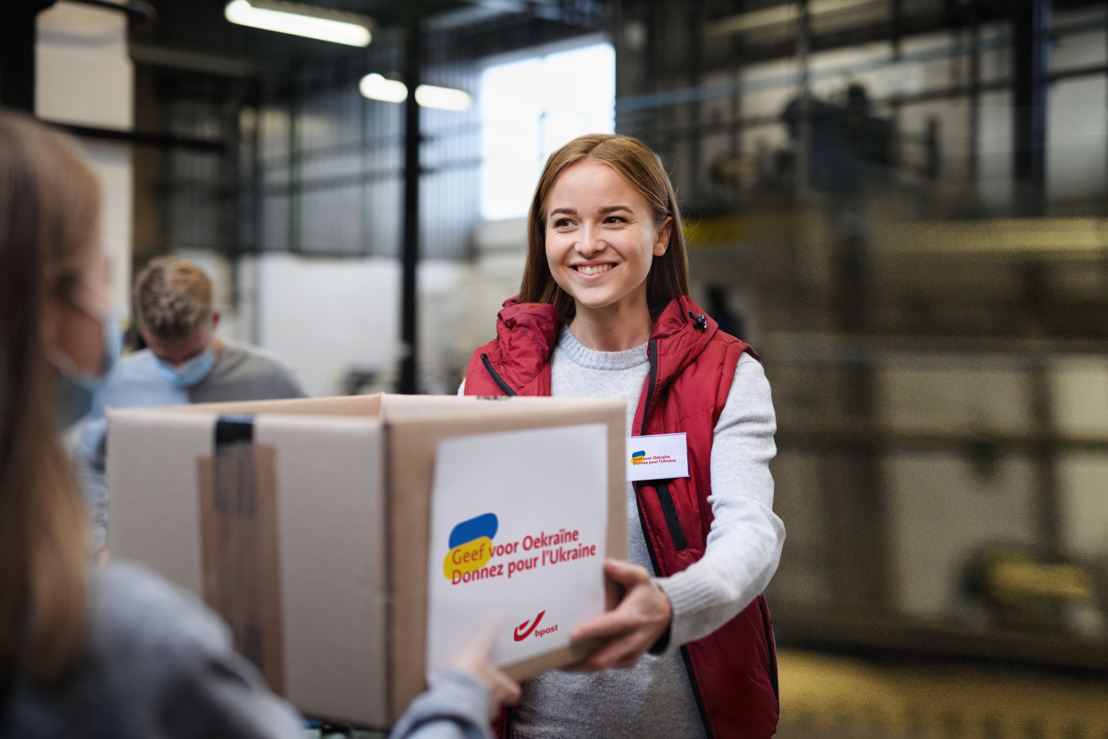 bpost is working with Ukraine's national postal operator to help the hardest hit people in Ukraine
All Belgians can deliver donations of vital supplies in our post offices
Thursday 17 March 2022
bpost supports everyone affected by the humanitarian crisis in Ukraine. The Belgian postal and e-commerce logistics company will collect donations of vital supplies at its 657 post offices from Monday 21 March 2022 until April 15. These donations will then be sorted at a bpost sorting centre. In response to the humanitarian crisis, bpost volunteers will drive company trucks filled with the donations up to the Ukrainian border. There, the cargo will be handed over to Ukrposhta, Ukraine's national postal operator, which will ensure it gets to where it's most needed.
The war ravaging Ukraine has left no one unmoved. bpost wanted to provide assistance to the Ukrainian people in partnership with Ukrposhta.
"bpost group will do what's required to help our colleagues and the people of Ukraine," said bpost group CEO Dirk Tirez, after a call with Ukrposhta's CEO and chairman of the board of directors, which is providing vital assistance to those Ukrainians who need it. "Like our colleagues at Ukrposhta, we are an international company specialized in transport and logistics. We will capitalize on all of our strengths to get them what they need. The Ukrposhta workforce is no longer able to provide their basic postal services, but they are working hard to deliver as much aid as possible to the Ukrainian people."
A vast Belgian network
People in Belgium who wish to aid and support Ukrainians who are unable or unwilling to leave the country will be able to drop food parcels, preferably packed in sturdy open boxes (without label) at one of our 657 post offices from Monday 21 March 2022. Only vital supplies and non-perishable food that does not need to be heated before consumption, packaged in unbreakable and original containers (so not glass jars), can be accepted.
We will only collect the following:
Canned food (fish, meat), packaged dry fruit/nuts, (breakfast) packaged cereal, packaged dry biscuits or crackers, baby food (formula or meals), not in glass jars;
Dry or canned pet food for cats and dogs;
Hygiene products: body gel, shampoo and soap, toothpaste, toothbrushes, nappies/diapers, pantyliners, sanitary towels and tampons, wet wipes.
Humanitarian aid will be collected through each and every one of our 657 post offices – and consolidated at a sorting centre. bpost trucks will then transport the supplies across Europe to an agreed spot at the Ukrainian border. Here, they will be handed over to Ukrposhta staff for dispatching delivery to the people in Ukraine who are unable to flee the war.
More information on: www.bpost.be/ukraine

Press Relations MULTI - Boulevard Anspachlaan 1 bus 1, 1000 Brussels