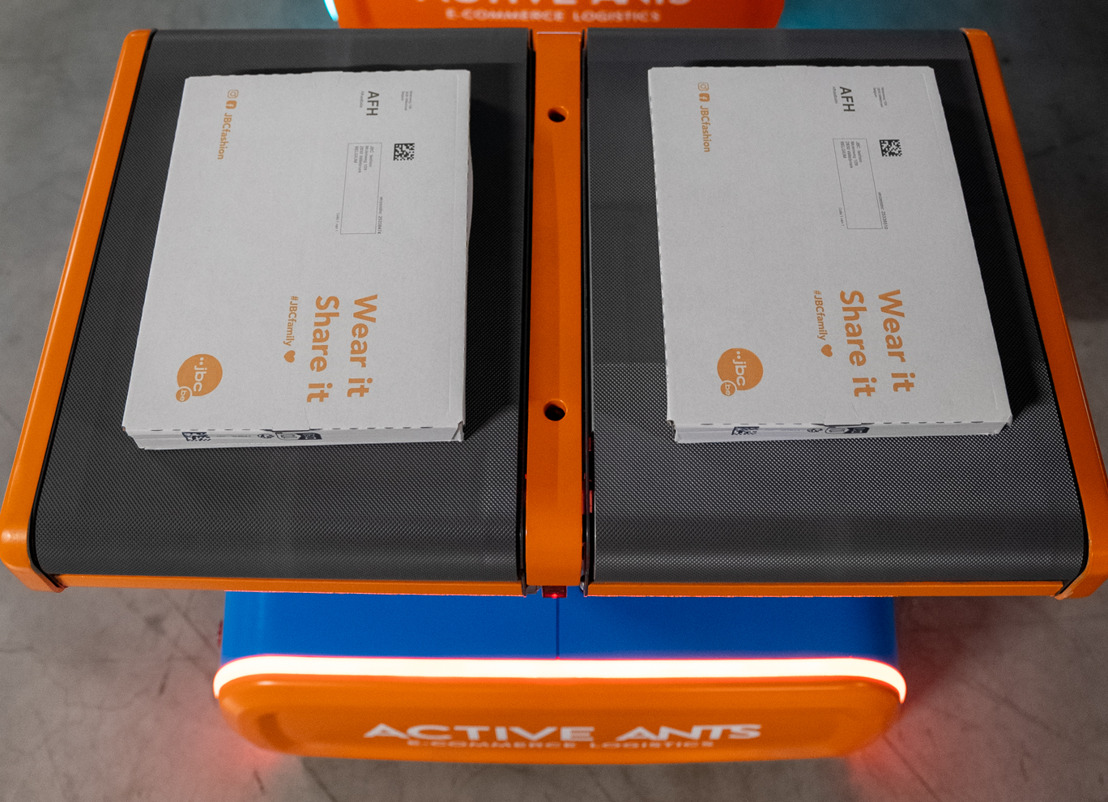 JBC chooses Active Ants as online order logistics partner
Active Ants Willebroek doubles capacity
Thursday 6 July 2023
Belgian clothing brand JBC has chosen to partner with bpostgroup subsidiary Active Ants, which provides logistics support for online stores. Starting this September, all online orders received by the clothing retailer will be processed by the Active Ants fulfilment centre in Willebroek. ​
Online sales have remained at a high level post-covid in many industries, including fashion. The confirmation of an order at an online store launches a complete logistics process behind the scenes. This September, the Belgian division of Active Ants will begin providing logistics support for retail chain JBC's online sales – the whole process of storage, picking, packing and shipping parcels in sustainable packaging bearing the JBC logo. ​
"We see e-fulfilment demand continuing to rise," says Gert Hellemans, General Manager Active Ants Belgium. "Upon opening in 2021 we provided for the doubling of our capacity but due to growth we have accelerated the process. So we certainly have enough space to launch the partnership with JBC. We are delighted they have given us this sign of trust in choosing a partner that uses state-of-the-art technology to marry efficiency and ecology."
Sustainability first
At the Active Ants warehouse, people work with robots to prepare orders. Sustainability in the processing of each online order is a key concern in this forward-looking approach. The software always selects the smallest possible box and the shipping label information is printed straight on the packaging to reduce paper consumption. The packaging machines also cut each box to size to minimise the amount of empty space. That also minimises the amount of filling needed. And smaller parcels take up less space during transport. These initiatives have enabled Active Ants to slash its carbon emissions by 40% on average.
"The innovative and highly automated nature of the logistics process future-proofs Active Ants," says JBC CEO Bart Claes. "Alongside their sustainable approach, that makes them the obvious choice as our new logistics partner."
Sustainability is a very important concern for JBC, which is why it has chosen a local partner that shares its principles.
Willebroek enlargement
Active Ants enlarged its e-fulfilment centre in Willebroek in April, a year ahead of schedule, in response to the rising demand for logistics support from online stores. This increased the number of storage spaces in the Autostore from 20,000 to 52,000 and doubled the number of gates to 10. In addition, 20 extra employees provide the necessary reinforcement to the teams. Up to 8,000 orders per day can now be processed. ​ ​
The Autostore is a unique automated system for storing goods very close together in trays. Based on incoming orders, storage robots go to the appropriate trays to pick the appropriate products, which they then take to the filling stations, where employees complete the process.
There is 10,000m2 of floor space available at the Willebroek e-fulfilment centre. This state-of-the-art facility makes innovative use of 30 storage robots and 50 carrier robots to assist the human staff. Autostore is used to prepare thousands of shipments for online stores, including JBC's. Storage, picking, packing and sorting are all fully automated.
​
​A European business, Active Ants also has two sites in the Netherlands, one in Germany and one in the United Kingdom. ​
Active Ants Willebroek in numbers
Floor space in use: ​ from 7,000m² to 8,000m²
Storage capacity: ​ from 20,000 to 52,000 Autostore trays
Number of picking gates: from 5 to 10 gates
Number of shipments: up to 8,000 per day
Number of robots: from 50 to 80
About Active Ants
Active Ants was set up in 2010 with the aim of raising the efficiency and accuracy of e-fulfilment through innovation, automation and the deployment of robots. Active Ants is now one of the market leaders in the Netherlands, with more than 250 customers and five million plus orders per year. In 2018 Active Ants joined bpostgroup.
About JBC
JBC's story started in 1975, when Jean-Baptiste Claes lent his initials to the very first JBC store in Schulen. JBC has since grown into a trendsetting fashion retailer for the whole family. Jean's children Bart and Ann joined the family business in 1985 and have jointly led JBC since 2003 on its journey to becoming one of Belgium's biggest clothing retail chains. JBC has no fewer than 115 stores in Belgium and Luxembourg, and the company's online store has won various awards.
​
​The whole #JBCfamily is proud of its Belgian origins and strongly believes in the benefits of having a local presence and supporting local talent, as shown by its Local Markets initiative to give a platform to Belgian talent. JBC is committed to high-quality affordable clothing made with respect for the planet and everyone who lives on it. The brand has been a member of the Fair Wear Foundation since 1 April 2015 and was the first Belgian retailer to sign the Accord on Fire and Building Safety in Bangladesh. These efforts were recognised in 2018 when Ann Claes was named the CSR Professional of the Year. JBC stores also prioritise sustainability: in 2021 JBC opened its first concept store in Leuven focusing on sustainability and family experience. Interactive gadgets like the DIY recycling machine, Studio Unique repair corner and touchscreens enable children to learn about sustainable fashion in a fun way. Crowning glory came in 2021, when JBC won the X² Award as the most progressive company in terms of gender equality in business. JBC is part of the Claes Retail Group (CRG) alongside Belgian fashion brands Mayerline and CKS.
Note for editors (not for publication):
For more information, contact Katrien Vangrunderbeeck at JBC's PR & Communication department by emailing [email protected] or calling +32 11 51 03 24 (weekdays, 9.00-17.00).

Press Relations MULTI - Boulevard Anspachlaan 1 bus 1, 1000 Brussels