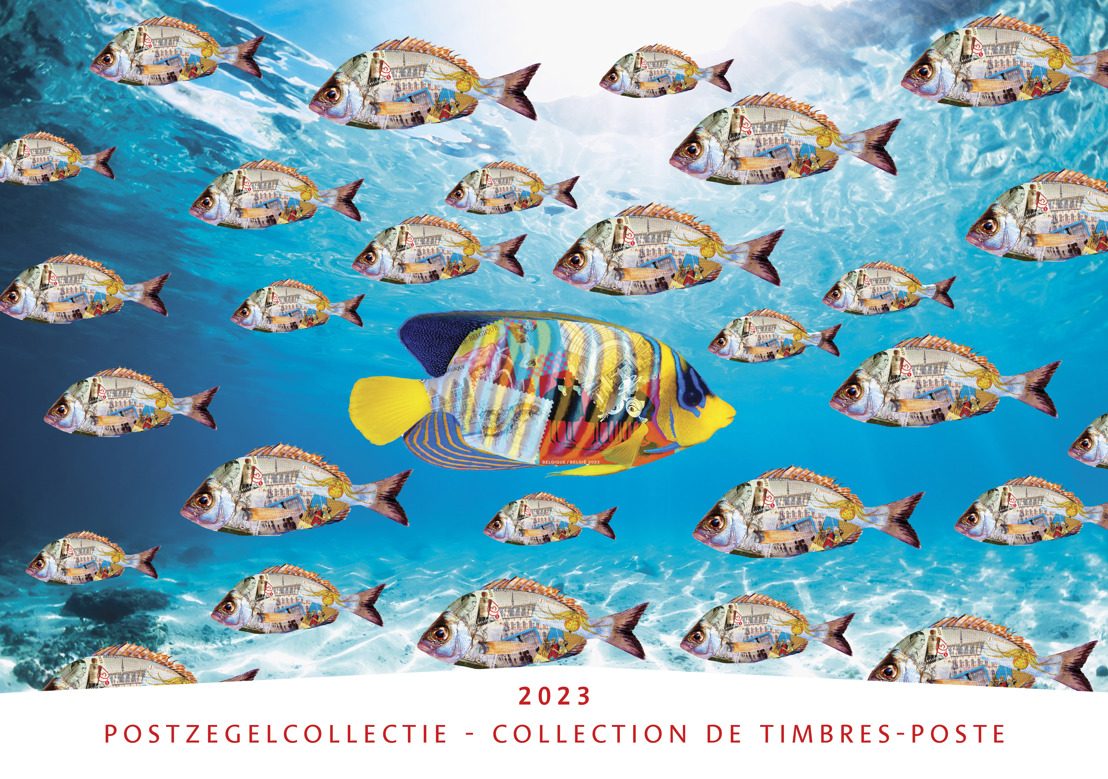 Royal surprises for the 2023 stamp collection
Belgium is unique and original. The new stamp collection pays homage to diversity and inclusion through some utterly Belgian qualities. New royal portraits, chippies, breakdancing, Belgian architectural heritage, Cobra, human rights and peace regale the limited-edition sheetlet issues in 2023.
Friday 25 November 2022
Queen Mathilde and King Philippe are the jewels in the crown of the 2023 collection. The stamps bearing their image will be unveiled on Her Majesty The Queen's 50th birthday on 20 January 2023 and on the 10th anniversary of the ascension of King Philippe on 12 June 2023.
bpost today presents its new 2023 stamp collection. As per tradition, the limited-edition stamp sheetlets are a mix of history and hope. They once again celebrate Belgium's unique heritage.
Happy 50th birthday HM The Queen (issue: 23 January 2023)
Queen Mathilde celebrates her 50th birthday on 20 January 2023. A symbolic milestone for a sovereign of her time who is fully committed to her family life, her official duties and the humanitarian and social activities she holds dear. To add extra sparkle to the festivities, in consultation with the Palace, bpost will keep the image used on the stamp sheetlet under wraps until 20 January 2023, three days before its release.
King Philippe 10 years on the throne (issue: 12 June 2023)
21 July 2013 is a date engraved in Belgian history forever. On that day, King Albert II abdicated in favour of his son Philippe. The image on the special issue sheetlet will be kept under wraps until 12 June 2023, when it will be unveiled on social media by bpost and the Palace at the same time.
Special Olympics World Games – invincible together (issue: 12 June 2023)
Berlin hosts the Special Olypics on 17-25 June 2023. Some 7000 athletes from 170 countries, including Belgium, will take part in 24 disciplines in total.
The delicious history of the fritkot (issue: 28 August 2023)
Fritkots (chip shops) are hugely popular in Belgium. So popular, in fact, that they were given national heritage status in 2017. Mobile chippies first started appearing at fairs and fetes around 1838. To add flavour to the issue, you can fold the stamp sheetlet along the printed lines to create your own mini mobile-chippie.
75 years of Cobra (issue: 23 October 2023)
Cobra was an avant-garde art movement of poets and painters from Copenhagen, Brussels and Amsterdam between 1948 and 1951. The name was formed from the first letters of the three capitals where most of the founder members lived. The stamps feature six works of art that can be seen in Belgium.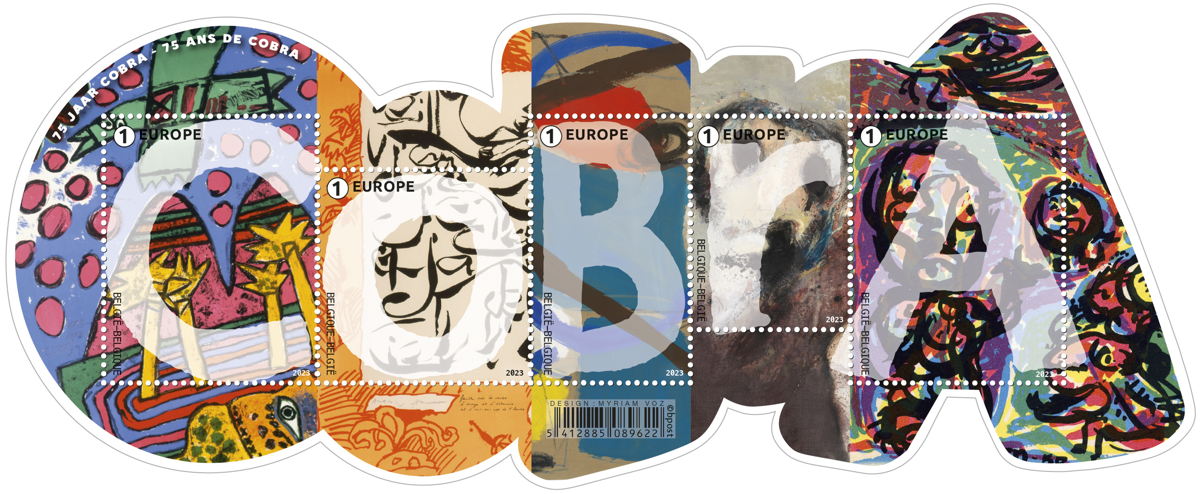 Other issues in 2023
Issue date 23 January 2023
Brussels Year of Art Nouveau
​The Brussels-Capital region has declared 2023 the Year of Art Nouveau. Immerse yourself in the best of art nouveau in Brussels, with five stamps dedicated to the decorative and jewellery art produced in the name of this art movement.
Great spa towns of Europe – Spa
​This stamp sheetlet pays tribute to Belgium's premier health resort, a Unesco World Heritage site.
Anne-Mie Van Kerckhoven 'Klok'
​The Antwerp-based artist AMVK has agreed to allow her 'Klok' piece, a combination of drawing and digital collage, to be used on a limited-edition stamp issue.
Issue date 20 March 2023
100 years of Sabena (issue: 20 March 2023)
​It was a hundred years ago, 23 May 1923, that the Société anonyme belge d'Exploitation de la Navigation aérienne, better known by its acronym Sabena, was first formed. To celebrate the 100th anniversary of the forming of the company, which was unfortunately wound up in 2001, bpost presents a stamp issue depicting iconic posters from Sabina's heyday.
75 years of the Universal Declaration of Human Rights (issue: 20 March 2023)
​Diversity is a fact. Inclusion is a choice that bpost fiercely defends. With this in mind, bpost wanted to pay tribute to the Universal Declaration of Human Rights, which was signed by the United Nations General Assembly on 10 December 1948. The focus is on article 1: "All human beings are born free and equal in dignity and rights." ​
Covered galleries
​A special engraved issue turns the spotlight on Belgium's covered galleries and arcades.This issue takes you on a journey to the four corners of Belgium: explore the Stadsfeestzaal in Antwerp, the James Ensorgalerij in Ostend, the Passage de la Bourse in Brussels, the Passage Lemonnier in Liege and the Passage du Nord in Brussels.
Hidden soil life
​Insects, worms and other soil-dwellers are featured in a set of five stamps highlighting the delights of the fauna living under our feet. ​
Issue date 12 June 2023
Peace
​The theme, so important in this time of conflict, is interpreted on a sheetlet of stamps that can be used for European destinations. ​
Raoul Servais, pioneer of Belgian animation
​Harpya. Siren. Chromophobia. Nocturnal Butterflies. Taxandria. The common denominator in all these works is filmmaker Raoul Servais. This trailblazer of animation gets to blow out 95 candles in 2023. A birthday we celebrate with a sheetlet featuring a selection of his output.
Issue date 28 August 2023
World Breaking Championships (issue: 28 August 2023)
​The city of Leuven hosts the World Breaking Championships in 2023. This dancing style, which first broke through in the 1980s, will become an official Olympic sport one year later, in 2024. bpost celebrates these landmarks with a breakdancing-themed stamp issue.
Squares of Kortrijk
​bpost continues its tour of Belgium with a trip to the fine city of Kortrijk. A set of engraved stamps depict the Broel towers, the city hall, the belfry, the beguinage and St Martin's church. College Bridge and the K Tower are also depicted on the sheetlet.
Spider splendour
​Arachnophobes look away now! Belgium's finest spider species are the stars of a special sheetlet.
Issue date 23 October 2023
Insulin, a medical revolution
​A brief history lesson. Frederick Banting was awarded the Nobel Prize for Medicine in 1923 for his discovery of insulin. This unprecedented medical advance is rightly celebrated on a 10-stamp sheetlet.
Iconic Belgian cars
​Let's drive! bpost takes you on a historical journey in the front seat of the Jamais Contente, the Gillet Vertigo, the Minerva AL Coupé, the Imperia Roadster and the FN 1300 Sport. The vehicles on the stamps are engraved by hand.
Christmas stamps
​This year's Christmas stamp pays homage to the magnificence of typography. The various punctuation marks are arranged in creative ways to evoke the sense of Christmas.
As well as these limited-edition stamps, bpost is also issuing a number of permanent stamps. The self-adhesive registered mail stamp for 2023 features the red knot. Another bird, the common quail, is depicted on the stamps that go on sale on 12 June 2023.
Previews of the stamps can be viewed at https://press.bpost.be/media/album/19660. All stamps will be available to buy at https://eshop.bpost.be/en from the issue date.

Press Relations MULTI - Boulevard Anspachlaan 1 bus 1, 1000 Brussels