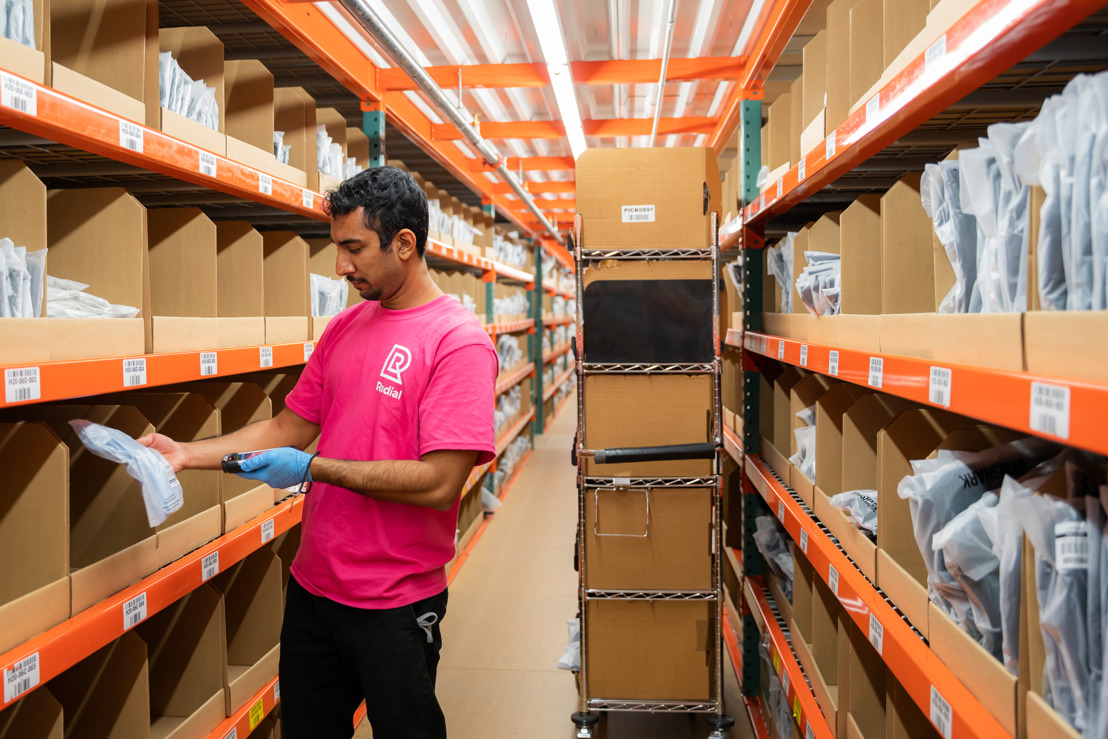 Second quarter exceeds initial guidance.
Results supported by resilient mail revenues, growth at Radial North America and implementation of management actions to mitigate unfavourable macro-economic environment and support long-term growth
Thursday 4 August 2022
Second quarter 2022 highlights
Group operating income at 1,035.5 mEUR, in line with last year (-0.2%).
Group adjusted EBIT at 82.6 mEUR (margin of 8.0%) down by -22.5% compared to high comps of 2Q21. Group reported EBIT at 79.5 mEUR.
Belgium

Total operating income at 531.8 mEUR (-8.7% or -3.1% excluding Ubiway Retail)

Parcels volumes decreased by -12.9% against high comps (or -2.9% excl. Amazon impact).

Underlying mail volume decline of -7.5%, mitigated by positive mail price/mix impact.

Stable opex; higher energy costs, 4 recent salary indexations mitigated by FTE's reduction and higher recoverable VAT.

Adjusted EBIT at 62.8 mEUR (11.8% margin) down by -21.7 mEUR (-25.7%) and reported EBIT at 62.6 mEUR.

E-Logistics Eurasia ​

Total operating income at 141.7 mEUR (-16.9%) driven by the continued expansion of Radial EU and Active Ants (+12.8%) offset by ongoing pressure on Asian cross-border and Dyna volumes.

Lower opex (-10.3%) in line with lower Cross-border and Dyna volume, partially offset by inflation and e-commerce logistics growth and expansion costs.

Adjusted EBIT at 7.1mEUR (5.0% margin), down by -14.7 mEUR (-67.4%) due to different product mix in cross-border volumes for destination Belgium. Reported EBIT at 6.4 mEUR.

E-Logistics North America

Total operating income at 378.6 mEUR (+8.2% at constant exchange rate), reflecting Radial's growth (+18.3%) driven by customers launched in 2021. Excluding the deconsolidation of the Mail Group +14.6% at constant exchange rate.

Adjusted EBIT at 18.1 mEUR, up by +7.4 mEUR with improved margin, mainly thanks to Radial's contribution. Reported EBIT at 15.9 mEUR.
CEO quote
Dirk Tirez, CEO of bpostgroup: "I would like to thank all my colleagues for delivering this second quarter results. There is a strong momentum across the group and the immediate actions taken by the management to counter the ongoing macro-economic pressures have been paying off in this quarter.
​
​Today, with one additional quarter behind us and with the results of these measures, we are now is a position to revise downwards the risk to our initial guidance from "up to 40 mEUR" to "up to 25 mEUR" despite continued market disruptions.
​
​While stronger headwinds from inflation, salary indexations, transport and energy costs, and consumer confidence persist globally and still bring uncertainty for the following quarters, we continue to take measures at all levels in order to phase and mitigate these adverse impacts whilst positioning our business for success in the mid-term."
Outlook for 2022
Whereas the first quarter financial performance was in line with our initial guidance, the second quarter outperforms our full year 2022 EBIT initial guidance of 280-310 mEUR issued on February 24, 2022, notably thanks to the successful implementation of the measures explained in May with the results of the first quarter.
However, unfavourable macro-economic environment persists and still brings uncertainty:
rising inflation in Belgium and internationally, resulting in even stronger headwinds than anticipated in May
​(e.g. Belgian payroll and salary indexations: the additional 17 mEUR cost vs. guidance has in the meantime increased to 24.5 mEUR due to future salary indexation now expected to occur earlier in the year).

uncertain consumer behaviour linked to inflation impact on discretionary spending on the back of a potential recession, and post-pandemic parcel volume normalization.
Stronger headwinds and consumer behaviour remain a source of uncertainty for the third quarter (historically a softer quarter with lower volumes during the summer period) and for the peak of the fourth quarter 2022.
As a result, bpost now revises downwards the potential downside risk to the initial guidance from "up to 40 mEUR" to "up to 25 mEUR" based on current perspective on overall market conditions.
Management continues to take actions with increased sales efforts, price increases where appropriate and cost reductions.
Link to the full report:
For further information:
Veerle Van Mierlo Spokesperson, bpostgroup
Antoine Lebecq Investor Relations